A few years ago, the Pankun monkey and the dog James enjoyed success in Japan. But also in other Asian countries. Today, thanks to the internet, they continue to cause a sensation on sites like YouTube. Where they still accumulate thousands of views.
At first glance, the adventures of these nice friends are very fun and arouse tenderness. But it is impossible to avoid asking the following question: what should we think of the use of animals in the entertainment industry?
Some facts about the Pankun monkey and his "pet
Pankun is a chimpanzee born at the turn of the century in the Cuddly Dominion Zoo, located in Kumamoto Prefecture, in Kyushu, Japan .  We trained him from a very young age to become a star.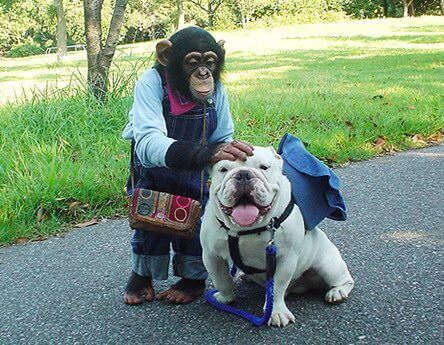 The animal has always been very humanized: dressed as a human, human walk, and human habits. To complete his human appearance, he was given a pet, a bulldog dog named James.
Pankun's video views are still numerous to this day. Yet many seem to forget an essential fact: it is a monkey.
The adventures of the Pankun monkey and his "pet", James, a bulldog dog, were all the rage on Asian television and then exploded on the internet. Beyond the fun of seeing these adorable beings, the debate on the use of animals in the entertainment industry continues.
The less fun side of Pankun monkey's life
The adventures of the Pankun monkey and the dog James were recorded until 2009. Nevertheless, the chimpanzee remained the attraction of the zoo until the day when what had to happen happened. The chimp ended up attacking a person who was hospitalized. A reaction that could be expected when animals uprooted from their natural habitat have to do things that are not normal for their species.
In any event, Pankun's "retirement" was planned for his sexual maturity. What happens between 10 and 13 years old. Today, we know that the chimpanzee is still in the zoo. But luckily for him, he resumed his life as a chimpanzee.
Regarding James' fate, a Facebook fanpage reported that the Bulldog unfortunately died in March 2016.
What was the "show" by Pankun and James
Obviously, without human intervention, it is almost certain that their lives would never have crossed, although the chimpanzee and the dog seemed to get along well , while living their "adventures" guided by men.
Here are some examples of what they were forced to do to cause laughter for so many spectators around the world:
Cross a river with obstacles
Become a firefighter
To cook
Go shopping
Make a medical consultation
To travel by train
Working in rice fields
And if the great intelligence as  well as the great sensitivity of Pankun did not fail to attract attention, many people were more shocked by the use of animals.
An always open debate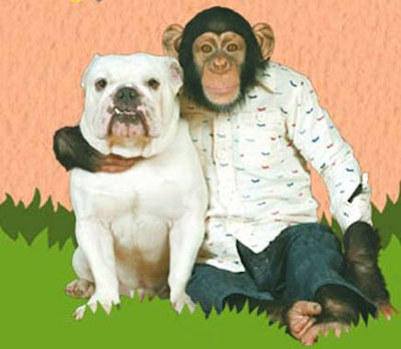 The life of a captive chimp can last about 60 years. We therefore hope that Pankun can spend the rest of his life without being forced to become what he is not, within the confines of a zoo .
This example can show us that even for a monkey like Pankun who seemed to be willing to show off, taking exotic animals away from their habitat to make them do human activities can often trigger unpredictable reactions, sooner or later. and dangerous,  both for animals and for humans.
This is why the debate on what is ethical and what is not regarding the use of animals remains open. You can't miss it.