2020 Suzuki Swift Sport with a hybrid engine will be sold in the UK in April. The Swift Sport Hybrid version is part of Suzuki's plan to meet the stringent emission standards in Europe.
In appearance, the Suzuki Swift Sport Hybrid 2020 is more sporty and bunker than the standard version.
The new version of Suzuki Swift impresses with the contrasting yellow-black color scheme. On the capo, the car features a black stripe and 2 air intakes similar to high-performance sports cars.
The car possesses dimensions measuring length x width x height respectively 3,840 x 1,735 x 1,495 (mm), wheelbase reaches 2,450 mm. The hybrid system weighs only 15 kg, keeping the weight of the car at 1,025 kg.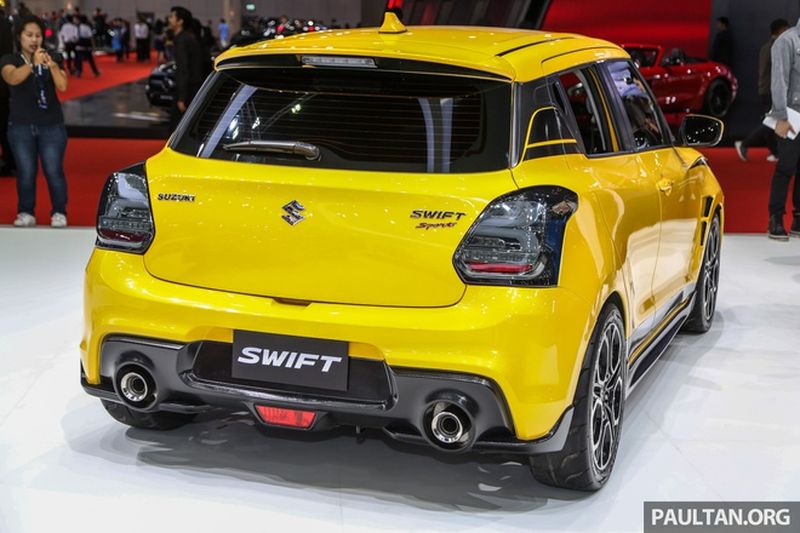 The 2020 Suzuki Swift Sport Hybrid is sportier and more aggressive than the standard version.
Suzuki Swift Sport Hybrid 2020 uses a 1.4-liter, 4-cylinder turbocharged petrol engine combined with a 48V lithium-ion battery pack and integrated generator (ISG) to provide an additional 5 Nm of torque. in low fringes of 2,000-3,500 rpm. This engine produces 129 horsepower and 235 Nm of torque.
With this power, Suzuki Swift Sport can accelerate 0-100 km / h in 9.1 seconds, the maximum speed reaches 210 km / h, the maximum speed remains the same as its predecessor.
The interior of Swift Sport is covered in black, interwoven with some red details.
Another impressive information is, the Swift Sport 2020 CO2 content reaches 127g / km and the average fuel consumption is 5.65L / 100km.
Hybrid version is equipped with a lot of impressive standard safety equipment such as blind spot monitoring system, rear traffic warning and traffic sign recognition.
The Suzuki Swift Sport 2020 will have a slightly higher price than the old one, ranging from $ 19,400 in the UK.
In Vietnam, Suzuki Swift is being distributed with two versions, GL and GLX, at VND 499 million and VND 549 million, respectively. However, the sales of this car model is quite dramatic when only 1 Swift was sold in January 1/2020.